English Whispers™ is a fledgling business, started in September 2021, and I really care about what I do, so thank you for your custom. I hope you will enjoy giving one of my cards to someone special. Cheers and thanks for stopping by.


I especially enjoy drawing nature, old buildings, and still life - usually small illustrations, sometimes a little quirky, and mostly using black fineliner, adding colour with watercolour pencils or markers. I'm also partial to using pink fineliner, which brightens things up and have recently started drawing in white ink on navy and black. I try not to draw hands too often - they're not easy! I love drawing my cards and have more designs in the pipeline which I'm looking forward to publishing.


After studying photography in Hertfordshire, I ran my own part-time business as a social photographer for several years, particularly enjoying portrait and candid photography, and more recently, had been looking for a way to use my artistic talents. Having rediscovered my love of drawing 12 years ago, which included illustrating many 'one off' greeting cards for my family during this time, and after itching to set up my own card business for the past few years, I finally followed my heart.


I'm fortunate to have been brought up in a creative environment, with a family into writing, music, and art. My grandmother was a very talented artist, and my sister is also, specialising in large acrylic paintings, and it's nice to be able to follow in their footsteps. I also enjoy playing guitar, singing and writing - all creative fields which I'm passionate about.


One of my most satisfying experiences artistically, was when selling a canvas print of mine - a photograph of a lavender field. When I was asked to deliver the print to the lady's home in Hampstead, I was very surprised when she showed me her collection of original David Hockney and L.S. Lowry sketches and paintings covering her walls - so, I can say that my work is hanging alongside those esteemed artists!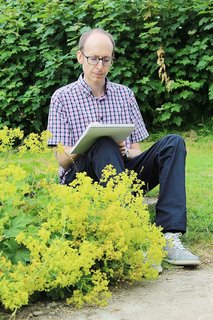 The artist hard at work.